U.M.I Foods wins Best Supplier of the Year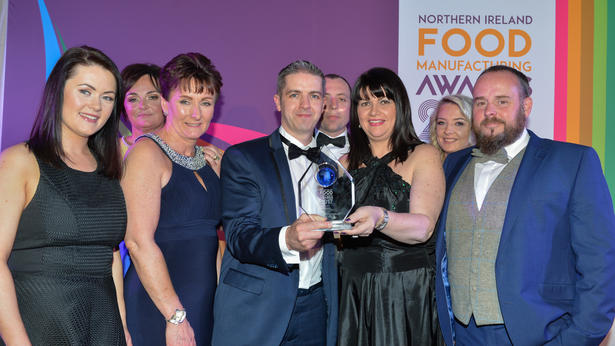 U.M.I Foods are delighted to have won the 'Best Supplier of the Year Award' at the Northern Ireland Food Manufacturing Awards 2017. Sponsored by Henderson Food Machinery Company, this prestigious event took place on Friday 28th April at the Stormont Hotel, Belfast with representatives and guests from across the industry in attendance.
The awards are designed to give deserved recognition for businesses within the food manufacturing industry in relation to innovation, export, IT, training and also customer service. Specifically, the Best Suppler of the Year Award is designed to identify food suppliers who have gone the extra mile in providing exceptional service to their customers. In addition, it also recognises companies who have excelled in innovation and efficiency in the services which they provide, with entrants required to provide evidence of their investment and commitment to food manufacturing in Northern Ireland.
U.M.I Foods (recently rebranded from Unimush Ireland) are leading manufacturers of hand prepared vegetable products and suppliers of loose, pre–packed and prepared Irish & British Mushrooms. Established in 1999 by directors Plunkett Curry and Seamus Cassidy, combining over 40 years' experience of the mushroom industry; the company was founded and built on four core principles: Quality, Innovation, Value & Service.
Commenting on the award, U.M.I Foods Managing Directors stated, "As a forward thinking fresh foods company, we remain committed to spearheading trends in the industry as leaders in our prepared foods division. Our associates have come to recognise us for our commitment on quality, our passion for innovation and our promise on service and reliability. These are values deeply embedded in our business and we are both absolutely delighted to have won this prestigious award, which is a testament to the commitment, hard work and dedication of all of the staff at U.M.I Foods. It's our first award following our recent rebrand to U.M.I Foods and we hope it will be the first of many!"
This award is on the back of recent successes at the business, following new product listings, launching into new categories and also being endorsed by some of our industry's most widely recognised and respected organisations, including being listed amongst the London Stock Exchange 1000 Companies to Inspire Britain 2016.