U.M.I Foods success at Henderson Awards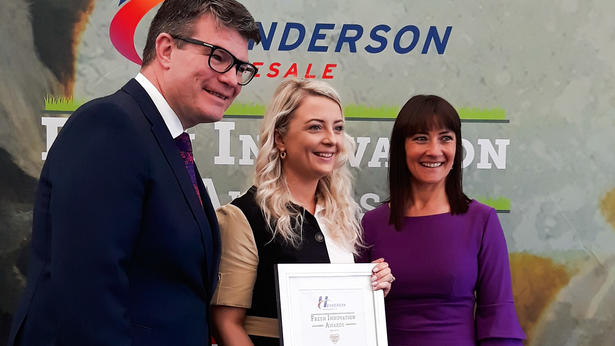 On Friday, 17th May we were privileged to attend the Fresh Innovation Awards for Henderson Wholesale who own and supply the SPAR franchise in Northern Ireland. The presentation of the awards took place at the Balmoral Show, preceded by a delicious breakfast provided to the suppliers who had been shortlisted in the awards. This year the awards were presented by BBC Presenter Jo Scott.
There were seven award categories in total:
1. Own Brand Supplier of the Year
2. The Tomorrow Matters Award
3. Young Agri–food Innovator
4. Excellence in Regional Delivery
5. Product Innovation Award
6. Contribution to the Agri–food Industry in Northern Ireland (non–entry)
7. Overall Supplier of the Year (non–entry)
This year, U.M.I Foods entered the Product Innovation Award category which was developed to recognise excellence in innovation within Henderson's local fresh food offering, particularly within the convenience sector.
The Henderson Wholesale Fresh Innovation Awards were independently scrutinised by a panel of experienced judges including food writer Sam Butler, Head of Food Technology at CAFRE, Joy Alexander; Irish News Business Editor Gary McDonald and Dr Lynsey Hollywood, Ulster University Business School's Agri–Food Business Development Centre Manager. Michele Shirlow MBE, CEO of Food NI also joined the panel for the first time this year.
In 2018, U.M.I Foods successfully launched a range of Stuffed Mushrooms and Filled Potato Skins into 'The Kitchen' Range. In recognition of our contribution to innovation, we were 'Highly Commended' by the judging panel for our entry with Cloughbane Farm winning the category.